fast facts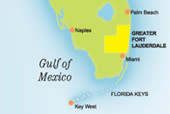 Greater Fort Lauderdale encompasses all of Broward County, Florida, and includes 31 cities
Fort Lauderdale-Hollywood International Airport,  is ranked 21st in the U.S. in total  In 1986, the city began a transformation process that changed Greater Fort Lauderdale from a spring-time college destination to a year-round, family-friendly retreat.
The story of spring break's history in Fort Lauderdale dates back to the 1930s – and its future is continually being told, retold – and refashioned. Some of the old haunts – from hotels to bars – still are open, with proprietors keen to retell the tales of Spring Break's heyday in the 60's, 70's and 80's. Success can be seen in the caliber of shops, restaurants and hotels along the beachfront. Your grandparents, parents – even you – might not recognize the Fort Lauderdale beach made famous by "Where the Boys Are." Spring break has taken on a whole new appearance. Today, visitors include families and couples, meeting attendees and international travelers – and even a few college students.
The arts and culture scene in Greater Fort Lauderdale has blossomed. Today it includes arts districts, festivals and a county-wide $100 million art in public spaces program.